New 13' Pull Type Mower Conditioner
Kverneland Group is now introducing a new range of Kverneland trailed mower conditioners in working widths from 9'2" - 13'1" (2.8 – 4.0m). A new mower offering improved design of the suspension and more accurate ground followings. In addition the Kverneland cutterbar, with outstanding cutting performance, and the SemiSwing steel tine conditioner or chevron roller conditioner is also fitted onto the range.
Complete Disc Mower Range Renewed within 6 Years
The complete range of disc mowers has been renewed during the last 6 years. In 2006 the reworked and improved cutterbar and the entirely new SemiSwing steel tine conditioner concept were introduced. Since then the complete range has been reworked, and the new cutterbar has been introduced into all models. This means the complete range of Kverneland disc mowers has been either reworked or completely renewed during this short period.
Tailored To Any Request
Including features such as SemiSwing conditioner, low maintenance cutterbar, SuperFloat suspension, BX Auto-Swather belt and FlipOver widespreading, Kverneland 4300 series machines are ready to meet every request with exceptional performance.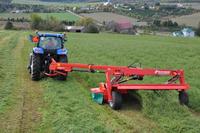 A New Generation of Machines
The Kverneland 4300 series machines have seen a number of improvements, maintaining its position at the front of the pack, when it comes to trailed mower conditioners. The new generation retains excellent cutting quality at its heart - all wrapped up in a new stylish design. All machines in the range have been given a new modern and clean design, with a minimum of moving parts.
The new Kverneland 4300 series machines has seen a change in the angle of the SemiSwing tines from 7 to 9 degrees, offering an improved crop flow, cutting performance and swath performance. In addition the rotor has been reinforced via increased welding.
In addition to this new heavy duty springs have been added to all 10'6" (3.2m) models and 4 springs introduced on 11'8" and 13'1" (3.6 and 4.0m) machines, ensuring perfect flotation under all circumstances.
Further changes have been introduced on the centre pivot machines, including a more maintenance friendly transmission concept, eliminating overheating and allowing full turning flexibility, along with general reinforcements on drawbar and mainframe design.